Nationwide Legal Support Services
Fredericks & Palmer Process Serving might be the very best company for you to work with when you intend to litigate. The company offers high quality nationwide legal support services ensuring you are able to serve those you intend to sue or call as witnesses.
No matter where in the United States the process has to be served, Fredericks & Palmer will do its best to ensure the documents reach those who must receive them. We understand that people do move around a lot and are difficult to locate. Allow us to handle the delivery of the process papers. We will make they get to where they have to go.
Legal Support Services Offered Nationwide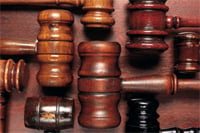 All of this does create a great deal of stress. We do our best to take some of that burden off your mind by effectively handling process serving for you throughout the nation.
We realize you have to file suits with the court within the established time frame under the statute of limitations. Once you have hired our Nationwide Legal Support Services, you can feel confident we will deliver results in the promised time frame. If anything unfortunate arises causing any delays, one of our representatives will take the time out to let you know the circumstances.
Do you need documents researched at the court house? Does a document have to be filed with the court? Are you in need of subpoena and document preparation? We can help with all these tasks and more.
Anyone interested in top quality nationwide legal support services definitely should contact the offices of Fredericks & Palmer today.
Fredericks & Palmer Nationwide Subpoena and Legal Support Service
Certifications:
Attorneys, NAPPS
Licensed - Insured - Bonded
We accept:
Money Orders
Personal Checks
Business Checks